Pick-Up Services
No matter if your business needs a one-time scrap pick-up or routine removal, Galaxy Metals can help. Galaxy Metals provides industrial and commercial metal recycling services for clients from all industries, including manufacturers, construction and demolition, electrical contractors, retail scrap operations, and more. Based in Melbourne, we work with customers throughout the city. If you are looking for scrap metal pickup in Melbourne and the surrounding areas, look no further than Galaxy Metals.
If you regularly produce scrap metal, we can offer you a removal program tailored to your needs. We pride ourselves on:
Accurate calculation of the weight of your scrap metal
Regular history reports
High-quality service from seasoned professionals
Custom metal recycling containers to fit your needs
24/7 pick-up services from our reliable fleet
Fast and fair payment
Drop-Off Services
At Galaxy Metal, we buy scrap from individuals, industrial manufacturers, and construction companies. Come to one of our drop-off locations in Melbourne to earn money for your scrap metal today.
At Galaxy Metals, we know that time is money. Our dedication to customer service ensures that we provide the fastest, most efficient transportation and processing of any recycling company around. With nearly 25 years of experience serving the residents of Melbourne, and the surrounding areas, we have the expertise to accomplish all of your recycling needs both quickly and competently.
Materials Handling
We are committed to serving both our customers and the land. Of course, recycling, in general, is great for the earth, and on top of that, we make sure that to use the most up-to-date recycling methods to ensure that we protect the environment as much as we can.
When it comes to customer service, we strive to have the fastest, most efficient transportation and scrap metal processing services out there. We have been serving the residents of Melbourne, and the surrounding areas for nearly 25 years, and we have always made it a priority to give our customers fair and honest treatment.
Commercial Recycling
At Galaxy Metal, we provide ourselves for being a one-stop shop solution for all your recycling needs. From scheduling, consulting, and payment you will not be assigned to departments but when one person will be accountable through the whole process. We are very flexible in the type of service that can be provided. We have large or small open-top Gondolas for steel and demolition sites. All sizes of Lager boxes to drop ground level for pickup at a later date. Forklift with 5000lb certified electric scales for customers who would like to be weighed and paid on the spot. Everything is possible with us.
Demolition
From over 25 years in Business, we have developed many relationships with demolition contractors. No job is too big or small. When you call us we will make sure you get value for your scrap from demo. Feel free to reach out to one of our specialists to give you a quote.
Industrial Recycling
Galaxy Metals prides itself on retaining many industrial recycling customers for over 20 years. Our industrial recycling customers like our fast turnaround between payment and pickups. We always have a solution for our industrial customers. If necessary we design specially made containers for the specific applications of each industrial customer. Our goal is to keep our industrial recycling customers happy and maintain a relationship for many years to come as well as have a strong recycling program in place.
Management and Brokerage
Our mission is to help our customers be partners in cleaning our environment. When we purchase your scrap Galaxy Metals allows you to be part of a network of end-users, mills, and secondary homes. There is no load too big or small and no geography a challenge for us. We have relationships with many trucking firms across the city who we can trust with your material. All loading is documented with pictures and weights are confirmed on loading and receipt. We can pay up to 90 percent of the load value upon receipt of the material. Terms are negotiable based on the size and dollar value of the load. We understand many customers are bottom line but at Galaxy Metals we will prove that a penny difference between us and our competition will be absorbed by our superior service.
Residential Recycling
We pride ourselves in keeping potentially recycled material OUT of the ground. Let's save energy and valuable resources by bringing old unused items to be recycled by us and be reused by industry. Not only are you doing a positive thing for the earth but we would like to make your experience pleasant. Our prices will be very competitive but your experience will be priceless. With over 20 years in the industry, we have developed very strong relationships with our material consumers and we are able to provide strong pricing.
Scrap Pickup
Galaxy Metals has all the right equipment to do a proper pickup. Our drivers are on time 24/7 and have smiles. All trucks are DOT certified. We have roll-off boxes, van trailers, gondolas, and flatbeds. 55-gallon drums, Gaylord boxes, and pallets to put your recycled material in. Call 00000000 or fill out our request a quote form below.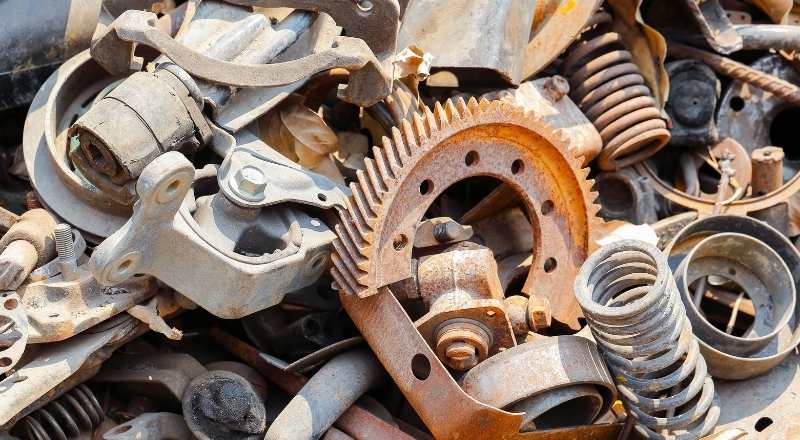 Handling All Scrap Metal Projects
We are fully equipped to both remove and process all types and sizes of recyclables, including obsolete metals. Our removal equipment includes roll-off boxes, gondolas, self-dumping hoppers, and stackable bins, and our scrap metal processing machinery includes shredders, shears, hydraulic balers, and more.
No matter the amount or size of the scrap metal you need to be removed and processed, we have the equipment necessary to get the job done. We have been serving businesses in Melbourne and the surrounding areas for nearly 25 years, and we have always made it a priority to give our customers fair and honest treatment.
Rid your business, home, or property of unwanted metal today.
What We Buy
Ferrous Scrap Metal
Steel Busheling, Baling Clips, Machine Shop Turnings, Plate and Structural Solids, Heavy Melt Solids, Cast Iron, Sheet Iron, Punchings, Rail
Nonferrous Scrap Metal
All grades of Stainless Steel, High Nickel Alloys, All grades of Aluminum, All grades of Copper, All Precious Metals
"Super fast response to my emails and friendly service. Would do business again in a heartbeat!"
We have a big facility and have been dealing with Galaxy for over 10 years. There has never been an issue with payments or services. We have developed a wonderful relationship.
I sent galaxy metals a picture of my copper gutters and they responded back to me very quickly with a price and even an estimated weight. I brought them in the next day as their price was very competitive. Super happy with the service and definitely recommend for anyone
Monday 8AM–6PM
Tuesday 8AM–6PM
Wednesday 8AM–6PM
Thursday 8AM–6PM
Friday 8AM–6PM
Saturday 8AM–6PM
Sunday 8AM–6PM